Dunbeag Blog
Hello there! Welcome to our little updates on seasonal life at Dunbeag. Scroll down and learn a bit about ourselves and what we do.





Happy Spring Equinox 2017
Added: 20 Mar 2017
Happy Spring Equinox!
Hello all you gardeners out there. Its freezer harvest time! The new season brassica and chilli plants are sown and thriving. So... time to get your goodies out the freezer! Smoked mackerels on good weather days or wrapped in foil stuffed with homemade pesto and baked are rather fine. Jam seaon is on, so brambles out the freezer and jelly is in the jars already. Raspberry jam and sorbet is in progress. Thanks to the freezer taking moisture from the berries the jam set is good, although enhanced with a few red currants in the mix. Home made tomato sauce for pizza is a regular when and IF I can get my paws on mozzarella and the bread maker out.

What else is happening... old chicken manure is being dug into the outdoor raised beds. The leeks are just finished and the purple broccoli is underway, a good harvest. So beds are becoming ready for this season. Weve just defrosted our chilli collection (frozen straight from the plant) and boy they dont lose any heat in the deep freeze.

We are aiming to empty/consume last years produce over the coming gap months. French cobra beans, mackerel,roasted tomatoes, pumpkin and pesto are all home grown, processed and ready to go. So dig into your freezer and get the goodies out!
Back online!
Added: 22 Jun 2015
Apologies to all regarding our virtual absence. Mostly due to the arrival of our Angus. Three years on and were coming out of the haze of sleeplessness. Ouch!

But now we are very busy! Much is in progress here at Dunbeag. While the sun shines big machines are relandscaping our smallholding. Brothers David and Rob make an excellent team figuring it all out. And what a difference! Pics soon to follow...

A level terrace and newbuild polytunnel has been created with 7 raised beds, greenhouse, potting desk and recreational area - currently the sandmountain and the cement mixer - hours of fun. Its looking just amazing and we are greatly encouraged by the health of the tomatoes, cucumbers, gourds and squashes.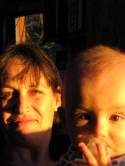 Winter 2012/13
Added: 11 Feb 2013
Wild and wintry weather for us all this time. Its early February and Spring is already making a presence! Hazel catkins swell, snowdrops are up and spring bulbs are pushing through the soil.

Weve been living quietly or not (wailing babe in background) this winter. But already our raised beds are being prepared with topsoil, wormcast compost and a good mulch of seaweed. The collection of which created much curiousity in the village. Why? What for? etc. Its a gardeners treasure and all these good storms have flung up masses of it on our shores. A fork and a builders sack and your are off.

The winter light with spectacular sunrises are truly stunning. The sun is already returning longer and the days extend further. More time in the day!

Autumn 2012
Added: 08 Sep 2012
Here we are 3 months down the line. Angus is a very alert and interested boy here at Dunbeag. We are amazed by his rapid development, like all parents we find. All new to us tho. The world takes on a new meaning with the birth of your children, what an amazing experience and culmination of life so far. The summer has been warm and balmy, bit too hot for our Ba Ba but lots of Vit D oot there so enjoy the rest of the sun we get, its a lang winter... and the berries are abundant. Blackbirds are feasting on the rowans, blood red and vibrant.

New Beginnings!
Added: 06 Jul 2012
Angus Isaac Blair has arrived safely at Dunbeag. Born on Wednesday 13th June he is now just over 3 weeks old and weighing in at just over 9 pounds! Clever boy!

Born in Paisley Royal Alexandria, we would like to thank all staff in the maternity unit and ward for all their care and attention to mum and baby!

Angus is settling in gradually to life on this planet, no easy feat in the year 2012. We hope you enjoy reading about his progress on this page and check out how cute he can be (or not) on our photos page.

Beltane Spring/Summer 2012
Added: 02 May 2012
What lovely hot weather and not a drop of rain in sight, incongruous as we have spent the last 6 months installing a micro-hydro system, only for the burn to dry up once its finished - the irony of it all... particularly in remembering the incessant rainfall levels for the last 6 months! Ach well, ye canny win em all. The most important aspect is that we are now running on mains power for the very first time at Dunbeag! No more negotiations over strimmers versus hoovers! We have the power! or rather... we will do when the burn fills up again. But when the sun is shining like this and the first of the swallows are beginning to arrive (with the midgies) it does not really matter.

It is bluebell season or more correctly wild hyacinths, flowering profusely in the garden and the scent is incredible. Seedlings abound and everyone is discussing what varieties of tomatoes are going spare, whats growing well and plant swapping! All good stuff. I see much more interest and collaboration these days in our village and growing your own veggies seems to be acting as the proverbial community gel.

We are not sowing quite so much this year due to the imminent arrival of our first child, eta beginning of June, exciting times so we will be concentrating mostly on tatties, onions, leeks, garlic and over wintering and hardy varieties. As we may be a little busy with a small person ruling our lives. It also means we will be unable to host any volunteers in the near to mid-term future.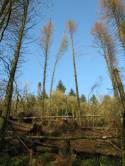 Storm of January 2012
Added: 15 Jan 2012
Storm of 2012! We lost quite a few veteran coppiced oaks which had been growing for well over 300 years, smashed to smithereens. A whole hillside of noble fir were brought down too. The plus side mean that more niches are available to regenerate the oaks and much more sunlight on the forest floor beneath the conifers which should promote the bluebells and fungi. We will have to wait and see. Most of the conifers are in difficult positions to be able to mill and transport even via the log chute. So more habitats and niches for the wildlife. There are certainly more birdsong and woodland edge available for them now.

The veggie garden is decimated and my prized leeks shredded in situ! Perennial broccoli should harvest well but not until March. Just as well weve been freezing everying down in advance. Not so good if you have been cut off from electricity. Fortunately being offgrid meant we were relatively unaffected by the power cuts. Sods law tho that our micro-hydro collapsed two days before New Year, fortunately David and Rob, his hardworking bruv, made an 11th hour fix and power has been steady ever since.

We are still awaiting a cold snap, as the dogs are still getting ticks and more weirdly there is a pink rose flowering in the garden...



Snow winter season has arrived
Added: 06 Dec 2011
Awoke to a blizzard today, makes the garden look quite tidy with all that snow on top. Time to use up all that lovely produce from this years season.

It was a tricky growing season, some things growing well and others mysteriously not... Our top fruit suffered as did the rasps, but plums, blackcurrants and gooseberries all did well. Beans sprouted, but french beans did not... very weird.

Time to get the logs in, sun down is at 4pm or thereabouts so plenty of time to get a good winter dinner sorted. Talking of which, we have some venison in the freezer thanks to Louis our (killer) springer who cornered a roe deer buck in the garden and throttled it. Wanting to put the opportunity to good use I called my Dad (thanks Dad) and he talked me through the gralloching, skinning and butchering process. All done and dusted onsite. Clever dog got rewarded with the tidbits. So that is Christmas dinner sorted. The roe buck is a lovely wild red meat with very little fat or toxins. This one was very well fed and about 1 year old. The meat is tender but care must be taken to remove the sinew which contracts the meat if left on and makes it very chewy. Its not as gamy in taste or texture as red deer. I would definitely recommend it. Rodents are always a problem on a small holding so we buried the little remains of the carcass and boiled the bones for game stock - yum!
Dad gets a haunch for his reward!

In this cold weather we are making sure our lovely composting wormeries are all tucked in with lots of bedding material (leaf litter/old rugs etc) if they can burrow down to 6 inches they will continue to process the compost all winter. Just check on them now and again, but dig deep if it is cold.

Enjoy the winter sunrises, they are truly spectacular!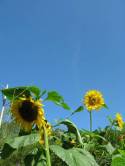 Harvest Time
Added: 25 Sep 2011
Aye the nights are fair drawing in...
Time for gathering in the harvest and chutney making season begins!

Theres been a couple of midnight chutney sessions already. Plum Chutney and of course, Green Tomato Chutney. Last night it was Apple Chutney and the temperature in the hoose got very hot - 26c in fact. So door and windaes all open before we all melted.

This is a lovely season of shorter days, eating runner beans and the final courgettes and tomatos. Grapes are all in (thanks Neil!) and pressed and the juice frozen. The last of the chilli plants are finishing off and then time to clear out the greenhouse. I am drying the chillis this year, more picturesque in jars for pressies too.

I use Auntie Delias recipes for green tomato chutney and my grandmothers recipe for apple chutney. Let us know if you would like to use it, works every time!
July and its HOT
Added: 04 Jul 2011
Welcome to the summertime at long last! Veggies are being a trifle slow but the last two days is finally bringing things on!

Good results from the wormcast compost beds so far, brussel sprouts, onions and massive cabbages so far, I wonder how big they will get before I have to harvest them. Garlic is looking good with the recent hot temperatures as well. We have spotted lizards, slow worms and a few toads regularly, but butterflies are thin on the ground. We saw red admiral caterpillars on our nettle path tho, and a few were flying and feeding yesterday.

Dragonflies should be buzzing around, but only buzzards catching the thermals above the Duin Hill.

Hoping our Neil will return soon to help strim the jungle orchard. Top fruit have all suffered due to the blistering storm just when the blossom was setting fruit. Plums are faring better tho. Raspberries just about the ripen and I managed to save 8lbs of blackcurrants before the blackbirds scoffed the lot. We literally chased each other around the garden today, picking as much as we could - not on the same bush tho.

Summertime and midgie time
Added: 08 Jun 2011
Welcome to our wee seasonal update at Dunbeag! Its nearly midsummer and temperatures are still on the low side. I have had to fleece my courgettes and pumpkins up in the garden. But all in all everything is looking very healthy and vibrant.

We are beginning to use our wormcast compost and feed our raised beds with wormcast microbes in water. Ron Gilchrist at www.greenwayconsulting.org is a pioneer in the way of vermiculture, using forest floor litterworms to recreate and establish fertility in the soil. A truly amazing approach so weve been building wormeries, hot composting containers and feeding our litterworms all winter with kitchen scraps and kitchen waste. The wormcast compost they leave is absolutely fantastic and we have grown the best rocket this year ever. We still supply the local restaurants and hotels and sold out at the last local market where over 3kgs of salad went in one hour. Must pick more!


Springtime 2011
Added: 05 Apr 2011
Its springtime at long last. Reclaimation work has begun in the garden. Adding lime after the tattie break helps promote good growth in the peas and beans which will follow. So, prepare the soil removing any volunteer potatoes from last year, wait for a still day and scatter the lime evenly on the surface of the soil. Allow to be rained in. Wait until soil temperature are around 10 degrees for your direct sow peas to germinate and not rot... It is also a good idea to put your pea sticks in at the same time as its easy to overlook supporting them when everything else needs done!

Potting Up
April showers are the order of the day, so indoor pricking out and potting up is an ideal activity when raining. Get the radio on, all the pots and compost ready to pot on and away you go... Very relaxing! Try not to compact your pots, leaving space for the roots to explore. Also aim to pot up in the shade as the fragile plants will not enjoy a roasting in the sunshine. Be very gentle with them and once potted on, mist them in to settle them.

The first seeds we sow are the important winter veg like leeks, brussel sprouts, cauliflower, kale, calabrese all of which are slow-growing and hence the first. I am fleecing them permanently this time when they graduate to the garden, cabbage whites, although pretty, wreak havoc on our brassicas... no longer!

We are using our wormcast compost this year in the polytunnels to enrich our soils for the greedy veg (tomatoes/sweetcorn/basil and the squashes). The wormery has been mollycoddled and nurtured all winter. Pilot results last summer with our tomatoes were stunning with a First Prize for our Coer De Bue toms at the Kyles of Bute Horticultural Society!

Roll on the warmer temperatures and sunny days, we are still keeping the thermals to hand in respect of the auld saying...

neer cast a clout til May is oot

Happy seed sowing and potting on!

A Very Happy New Year to You
Added: 07 Jan 2011
My mother told me that when she misses me she checks out our website and our blog so Im taking a New Resolution to update it a bit more regularly!

Its a brand new year, with a new moon and hopefully lots of new beginnings this year. These dark skies of late have revealed the Milky Way in all her glory - its star gazing season. Venus is so bright now that the light reflects on the Kyles of Bute just before daybreak. However, the days are lengthening already - really! The hard frosts and ice has given us lots of photo opps so check out Davids new photos of Winter 2010 with Jack Frost designing new patterns all over our house - check them out.

Our hens dont like this weather too well and the woodland birds are frantic for food. Current competitors for hen and bird food are:

Blackbird, Bramblings, Bullfinches for the buddlea seed, Chaffinches, Great tit, Blue tit, Coal Tit, Dunnock, Goldfinches - for burdock seeds, Robin, Thrush and in great numbers.

A great recipe for birdfood is:

Any amount of old frying oil or used chip oil and mix with any porridge oats, stale bread, stale nuts, fruit, biscuits - just about anything and place in a tub somethere high up in the garden (stops rodents!).

Then stand back and watch what happens, the birds will be very thankful and you get to see them close up!



Autumnal Bliss
Added: 01 Nov 2010
Woops, been a while in getting back to our blog! The clocks have just fallen back, and the nights are fair drawing in, time for roaring local log fires and snatching golden moments of sunlight on the deck - fond memories of summer already. Hard to believe we had a whole day at Ostel Bay beach recently in the school hols. Great fun, running in the surf in our knickers - barely a soul to be seen.

But the weather has changed, the leaves are awash in the track and a warm rosy glow is afoot. The harvest is in, the store cupboard is full of chutneys, jams and pestos. It has been a good soft fruit season, and our monthly producers markets have been popular with home-made pickles, chilli jams and lots of gorgeous home baking and crafts.

We love these long evenings which are conducive to catching up on indoor stuff, playing backgammon, listening to music and baking goodies,thinking of mulled wine already... enough of that!



Summer is here!
Added: 12 Jul 2010
Weve been busy in our brand new community forest and in the garden. Its now habitat management rather than gardening, but all the luscious veggies are doing well. A very dry spring and early summer has kept me fit, watering and feeding newly planted crops, but already the garlic is ready for lifting, onions will be next and peas abound in their supports.

We grow approx 70-80% winter veg as that what we need up here in Scotland. But a couple of lazy beds are reserved for florence fennel, peas, runner beans and climbing beans (my fav!). The tomato plants are looking great, moneymaker, big beefsteak and lots of plum are growing nicely, still awaiting the ripening... not had a tomato since our crop last year... canny wait!

The predators this year have been mice, deer, slugs and snails and now its the cabbage white butterfly laying eggs in the curly kale. Fortunately the slow worm population helps, spotted a weasel last week and weve netted everying against the cabbage white and the buck whos taken up residence.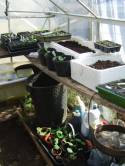 Germination at last!
Added: 10 Mar 2010
At last, some warmer weather, the greenhouse in the polytunnel is truly inspirational in adding about 2 weeks to our growing season.

Italian tomatoes are on and up, as well as the auld favourites, Gardners Delight and Moneymaker - the latter big luscious tomatoes - ideal for brushetta, passata or roasted in the oven... hmmmmmmm.

The brassica range are all in early, they need lots of time to get prepared for overwintering here. So kale, cauliflower, perennial broccoli, early purple and late purple broccoli, brussel sprouts and .... oh yeh, celeriac.

First sowings of lettuce have begun to show and basil sown today (lettuce leaved and genovese) are our all time favourites. We do succesional sowings of lettuce every two weeks.

Pick a nice warm day, mid morning to sow seeds which gives them the rest of the day to aclimatise and chill out. Cover in big duvet also known as horticultural fleece at night. We cosy in all the plants every night at least until the last frosts are over.

Water containers are kept in the greenhouse so the water is roughly at the same temperature as the plants, nothing like an icy cold shower in the morning to frighten yer seedlings!

Best of luck maties, Im doing seed sowing workshops for friends and family - scary to start off with but they are very like children, they like a bit of mollycoddling but they are pretty resilient.

Happy sowing!

More cold weather!
Added: 23 Feb 2010
A few warmer days allowed a little progress in the garden. Neil Davidson came to help rebuild the previously listing greenhouse and its shelfs - all brand spanking new now! Time to get some seeds sown for the early lettuce. Our garlic, sown in November is now showing dark green shoots - so some things are growing in the early spring sunshine. Hazel catkins are blowing in the wind and the sun is getting warmer during the day.

We are keeping plenty of wood in for the stove, once the sun sets the windchill bites in. The hens are enjoying the sunnier days and its a race to find their wild nests before crows, stoats, dogs and the rest of the wildlife. They just love to lay deep in the forest rather in their henhouse. The crows recognise their laying call now and flock in to guess the location of the nest.

We are just back from a lovely clear and sunny weekend on the bonny Isle of Eigg. A lot of friends, a bothy and fine fires, whisky and food made for an excellent birthday celebration with the local Eigg community. Many thanks to Maggie, Wes, Eddie, Dean and Stuart Ferguson with Donna and Grace accompanying. A most welcome place to visit, particularly in a clear frosty and snowy week. We thoroughly recommend a visit there anytime of the year.


Mid January 2010
Added: 21 Jan 2010
The days are lengthening already! About time too, here is a pic of sunrise around this time. And the increasing light means... ta da... the hens have started laying! whoopdeedoo!

Winter restructuring in the garden continues: planning lazy beds; rotation of crops; ordering seeds and negotiating plant varieties already. The greenhouse is leaning dangerously and needs readjusted. Time to sweet-talk the local handyman at Dunbeag! Just the chance to rejig shelves and a new potting up area and perhaps move the comfrey bath! Time to check on the tatties after such a frosty time. Thankfully after 6inches of permafrost for the last 8 weeks, they are still cosied up and edible - miraculous! Starry nights are the order of clear nights, Orion and Canis minor are fully resplendent in the milky way. We have been seeing quite a lot of shooters, mainly in Orions direction in the South.

With short days and long nights were working away at the kilfinan community forest project. if you are interested in finding out more the please check out the link.

Oh... did you know Cowal is now the hotseat of UFO sightings... Tighnabruaich Gallery is doing a hot sell on Chinese lanterns for celebratory occasions - better inform the MOD!
Website: http://www.kilfinancommunityforest.com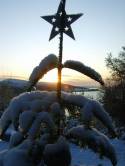 Merry Christmas Everyone
Added: 28 Dec 2009
We wish you all a very Merry Christmas and a healthy, happy and peaceful New Year (when it comes).

Well its been very cold, very snowy with amazing sunrises and sunsets. David has been relaxing by stomping up the hill, sledging with nephews and nieces and capturing beautiful landscape features on our dinky wee camera. Check them out in the photos page.

Not much to do in the great outdoors, shovel snow, feed and water the hens and ducks, oh... and get the firewood in. The woodstove has not been out since the Solstice, keeping us all cosy and warm (too warm?). Dogs start to melt at 25 degrees weve noticed.

Neer Day is nearly upon us, and plans are afoot (excuse the pun!) for its celebration! Doon the waater on the shores of the Kyles of Bute - weather permitting! See you there...?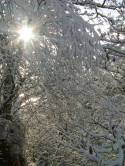 Winter Solstice
Added: 21 Dec 2009
Happy winter solstice, the 3 shortest days of winter from now until the 25th. Its a bit early for Lang May Yer Lum Reek, but get the fire on because its clear, bright and beautiful outside, but man and beast need the warmth of a fireside to come intae.

It is a snowy Dunbeag, we awoke to a Winter Wonderland yesterday morning, the woodland was glistening with icicles, trees burdened with heavy loads of thick snow and it was sparkling with the sunrise.

Check out the photo gallery for some very lovely views of the snow and ice.



Tis the winter season...
Added: 19 Nov 2009
...for raking leaves and clearing ditches
for nights by the fire and a drams to lifes riches! Twa dugs crashed oot by the fire, while we battle outside in the muddy mire.

Wintertime here at Dunbeag, and the squishy season has arrived, but a great time to watch out for sunrises at a hospitable hour.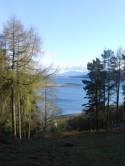 A day in Dunbeag...
Added: 31 Oct 2009
Hello, and welcome to Dunbeags new swanky website! Its Halloween, its a full moon and its Saturday night. Today we cleaned out the hens because the day was dry, then packed a picnic and went over to Coille Beag (it is the weekend afterall) to eat it! Clear skies, slightly breezy and the spaniels springing around in the heather. The rhododendron is nearly gone, you can see right through the woods and we can see red squirrel drays and evidence of cross-bills hurling empty cones onto the forest floor.